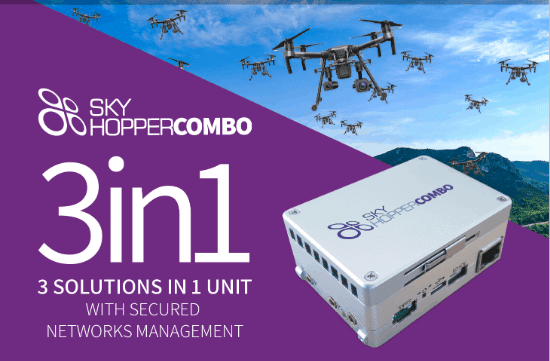 Mobilicom is pleased to announce it has released the SkyHopper Combo device and ControliT secured server solution following successful initial testing and demonstration phases underway.
SkyHopper Combo is a broadband communication datalink device that provides connectivity and operation of drones, robotics and other autonomous platforms. This enables operation of these platforms in any environment with or without network infrastructure.
The SkyHopper Combo device is highly secured solution that works in tandem with Mobilicom's secure cloud-based ControliT software, which enables device configuration, network management, fleet management, tracking, operation logs and statistics for operators.
Conventional solutions typically provide an independent direct datalink that has limited operational distance or a connection that is dependent on the availability of a cellular network. The SkyHopper Combo is unique in its ability to combine both solutions, embedded together to enable connectivity anywhere
and at any time.
Mobilicom expects the solution to have significant appeal with drone and robotics manufacturers, industrial system integrators, autonomous platform manufacturers and cellular service providers. The technology could be applied in numerous situations and settings including the mining, oil and gas, agriculture and public safety industries.
The Company expects to commence sales of SkyHopper Combo in the short term, with significant interest from potential customers after successful field-testing on board drone and robotics platforms.
Mobilicom CEO Oren Elkayam said SkyHopper Combo allows Mobilicom to expand its total addressable market to private and public infrastructure-based solutions, such as the industrial internet-of-things (IoT) communication market.
"The Combo device enables communication with other devices directly using ad-hoc wireless technology without infrastructure, but there is also the option to use cellular infrastructure when it exists, for beyond line of sight, long range, urban, and other operation modes," he said.
"The cloud solution will continue to evolve with additions of services beyond communication in the future, as well as expand our offering to infrastructure communication. It is also a significant step for Mobilicom to establish itself as a software-as-a-service (SaaS) provider with recurring revenues and high gross margins."