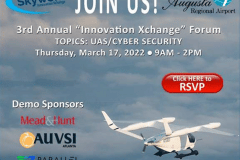 Augusta, Georgia, March 18, 2022 — Skyworx Innovation Xchange, the Augusta Regional Airports' (AGS) aerospace business incubator, hosted the third annual innovation forum focused on unmanned aerial systems (UAS) and cyber security relating to UAS. The event was held at the new SRP Park (Green Jacket Stadium) in North Augusta, SC.
The event was a great success with more than 150 registrants coming from around the world. Speakers included representatives from UPS Flight Forward, Parallel Flight Technologies, Skydio, Savannah River National Lab, Mobilicom Ltd., and Georgia Institute of Technology. The event show-cased drone manufactures that were on-hand to display and discuss their products. GreenJacket Sponsors for the event included Skydio, ATDC, Georgia Power and Nine Ten Drones. Demonstration Sponsors included Mead & Hunt, AUVSI Atlanta and Parallel Flight Technolgies. The Augusta Economic Development Authority sponsored a meet and greet the evening before the event for presenters and moderators.
"The Third Annual Innovation Xchange was a great success. Many new connections were made and a lot of good information was presented and exchanged, which is what this event is designed to do" stated Herbert Judon, Jr., Executive Director, Augusta Regional Airport.
Skyworx is operated by and through, AGS staff and the Augusta Aviation Commission. The mission of the Skyworx Innovation Xchange is to encourage interest and innovation in the aerospace industry by providing an entrepreneurial environment, which encourages new ventures and minimizes risk of failure during the critical start-up phase of new businesses.
For more information on Skyworx, please visit our website and Facebook page at www.skyworxinnovation.com. To view video of the event please click here: www.facebook.com/skyworxinnovationxchange/videos/1395502534217319