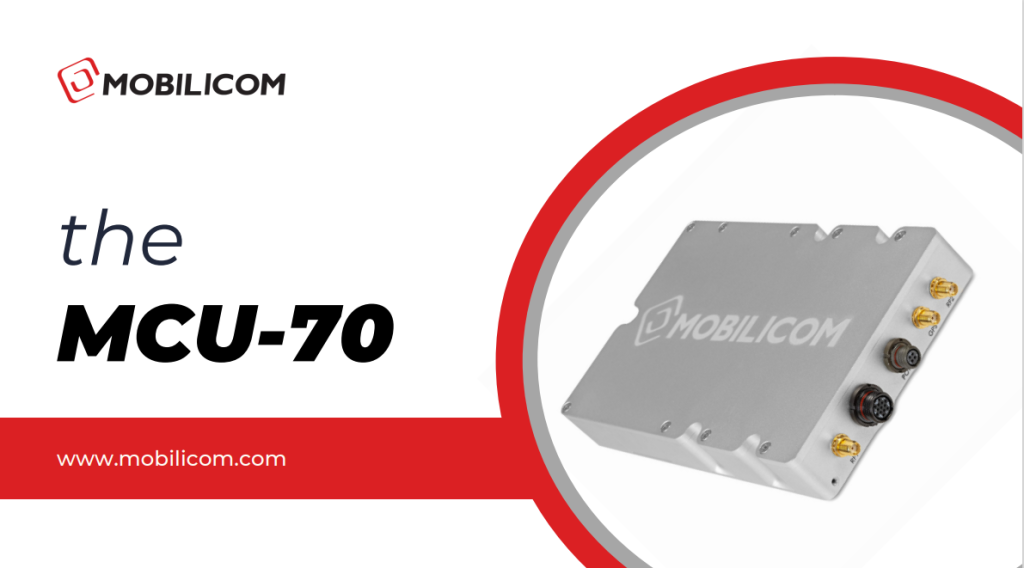 A CYBERSECURE, MESH SDR WITH UNPARALLELED SIZE-to-PERFORMANCE RATIO
Shoham, Israel, July 9, 2023 – Mobilicom, a leading provider of cybersecurity and robust solutions for drones and robotics, is proud to announce the launch of its latest product, the MCU-70. This cutting-edge addition to Mobilicom's MCU Series offers unrivaled cybersecure, wireless communications performance for small and mid-sized long-range unmanned aerial vehicles (UAVs) in both commercial and military applications.

UNLOCKING NEW CAPABILITIES FOR SMALL AND MID-SIZE DRONES
The MCU-70 is a revolutionary MESH Networking Cybersecure Software Defined Radio (SDR) that combines compact design with high-performance capabilities. Designed to deliver superior communication in the most demanding environments, the MCU-70 empowers drones to overcome the challenges of long-range missions with enhanced stability, resilience, and durability.
Key Features and Benefits:
Extended Communications Range: The MCU-70 enables drones to communicate over distances of up to 100 miles/150km, expanding their operational capabilities.
Unparalleled Link Performance: Enhanced mobile mesh (device-to-device) and wireless mobile IP communications, ensure high-quality video and data transmission.
Advanced Cybersecurity: Equipped with ICE Cybersecurity software, the MCU-70 provides essential protection against cyberattacks, safeguarding drone operations.
Durability in Rugged Environments:

Designed to withstand harsh outdoor conditions, the MCU-70 ensures reliable performance in challenging environments.

Comprehensive Protection Strategy: Equipped with the ICE Cybersecurity Suite as its base level of protection, the security measures can be further enhanced by integrating Mobilicom's networked hardware and software systems, offering a comprehensive and holistic protection strategy.
NDAA Compliant:

The MCU-70 meets the U.S. National Defense Authorization Act (NDAA) compliance requirements, ensuring adherence to industry standards.
EXPANDING MARKET REACH AND INDUSTRY IMPACT
With the introduction of the MCU-70, Mobilicom significantly expands its market reach to cater to small and mid-sized drone manufacturers. This latest addition solidifies Mobilicom's position as a one-stop shop for end-to-end solutions in military and commercial drone applications, offering unparalleled performance and security.
"MCU-70 opens up new opportunities for Mobilicom, delivering an even stronger value proposition to our Tier-1 manufacturing customers. As the industry evolves, the demand for long-range drones is set to grow, and we are well positioned to provide critical systems that drive high-performance drones for both commercial and military applications", said Oren Elkayam, CEO of Mobilicom.
Reliable, Long-Range Drone Solution
The MCU-70 addresses the specific needs of small and mid-sized drone manufacturers operating in long-range operations space. By combining a game-changing cybersecure, MESH networking SDR with a compact design and high-performance capabilities, the MCU-70 revolutionizes communication for many applications.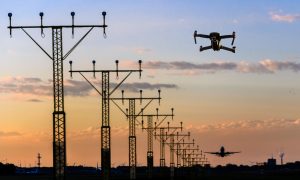 For example, long-range inspections of electric utility transmission lines need to communicate over extended distances while maintaining stable and reliable connections to transmit high-definition video and data. The MCU-70's superior communication capabilities enable these drones to operate up to 100 miles/150km away, expanding their reach and improving the efficiency and effectiveness of their inspections. Additionally, the MCU-70's enhanced stability, resilience, and durability ensure that the drones can withstand demanding outdoor environments and continue to perform optimally. This empowers manufacturers to offer reliable and high-performing solutions to their clients, meeting their specific needs for long-range inspections with confidence in the communication capabilities of their drones. 
Uninterrupted
Communication for Military Operations
The MCU-70 is of utmost importance in the military sector, particularly in conflict zones. With its compact design, high-performance capabilities, and remarkable range of up to 100 miles/150km, the MCU-70 empowers military drones to operate in remote areas, gathering critical intelligence and executing missions while maintaining uninterrupted communication even in harsh and challenging conditions of conflict zones. 
Because uncrewed vehicles are vital for intelligence gathering, surveillance, and reconnaissance missions, escalating cyberattacks on drones from electronic warfare systems pose a significant threat, leading to the loss of drones and sensitive data. To tackle this challenge, the MCU-70 incorporates advanced cybersecurity features, including the ICE Cybersecurity software, ensuring a secure and resilient communication system.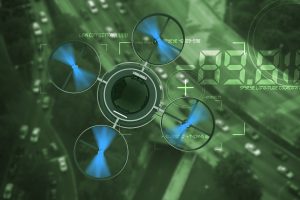 Leveraging patented technology and unique know-how in Mobile Mesh networking, Mobilicom offers a wide portfolio of commercialized products used in various applications. By integrating the MCU-70, small and mid-sized drone manufacturers serving the military and commercial sectors can provide highly capable and secure drones, effectively contributing to safety, situational awareness, and overall operational effectiveness. 
Contact us for more information: info@mobilicom.com